Meet the Safeguarding Team
Designated Teacher: Mr M McGinley
Deputy Designated Teachers: Miss C Keenan and Mrs R Treacy
Safeguarding Governor: Miss K Barnes
Child Protection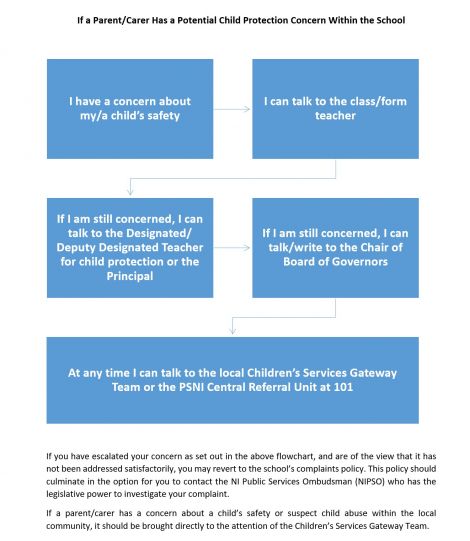 All staff of St. Joseph's PS believe that Child Protection encompasses the action taken to promote the personal safety and well being of children and the procedures followed in responding to suspicious and/or allegations of ill-treatment of individuals. (Article 19)
GUIDING PRINCIPLES
The child's welfare must always be paramount; The Welfare of the child is the paramount consideration for the courts and in childcare practice. An appropriate balance should be struck between the child's rights and parents' rights. All efforts should be made to work co-operatively with parents, unless doing so is inconsistent with ensuring the child's safety. (Article 6/9/19)
The voice of the child or young person should be heard; Children and young people have a right to be heard, to be listened to and to be taken seriously, taking account of their age and understanding. They should be consulted and involved in all matters and decisions which may affect their lives and be provided with appropriate support to do so when it is required. Where feasible and appropriate, activity should be undertaken with the consent of the child or young person and, where possible, to achieve the preferred outcome; (Article 12)
Parents are supported to exercise parental responsibility and families helped to stay together; Parents have a responsibility for their children rather than rights over them. In some circumstances, parents will share parental responsibility with others such as carers or the statutory authorities. Actions taken by organisations should, where it is in the best interests of the child, provide appropriate support to help families stay together as this is often the best way to improve the life chances of children and young people and provide them with the best outcomes for their future; (Article 9)
Partnership; Safeguarding is a shared responsibility and the most effective way of ensuring that a child's needs are met is through working in partnership. Sound decision making depends on the fullest possible understanding of the child or young person's circumstances and their needs. This involves effective information sharing, strong organisational governance and leadership, collaboration and understanding between families, agencies, individuals and professionals.
Prevention; the importance of preventing problems occurring or worsening through the introduction of timely supportive measures.
Responses should be proportionate to the circumstances; Where a child's needs can be met through the provision of support services, these should be provided. Both organisations and individual practitioners must respond proportionately to the needs of a child in accordance with their duties and the powers available to them.
Protection; children should be safe from harm and in circumstances where a parent/carer is not meeting their needs, they should be protected by the state (Article 19)
Evidence-based and informed decision making; Decisions and actions taken must be considered, well informed and based on outcomes that are sensitive to, and take account of, the child or young person's specific circumstances, risks to which they are exposed, and their assessed needs.
St Joseph's Primary School, 54 Greystone Road, Antrim BT41 1JZ | Phone: 028 9446 2076


WEBSITE BY: SCHOOLWEBDESIGN.NET | Login