Mega-beasts!
5th May 2016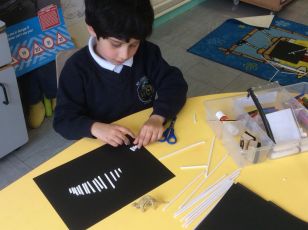 In Primary 3 we have been learning about dinosaurs and other large animals in the topic 'Mega-beasts'. In this this topic we have researched many of the dinosaurs and presented our fact files to our friends. We were also able to compare and contrast the Tyrannosaurus Rex and the Triceratops.
In this topic we took part in many creative activities including creating pastel drawings of dinosaurs, cave art pictures and creating dinosaur skeletons using at straws. We worked in teams to create 3d dinosaurs using 'junk art' materials, we had to talk about the 3d shapes we used and why we chose them. In our Numeracy lessons we even measured the height of dinosaurs in the school playground to find out which dinosaur was the tallest.
We were very excited to visit the Ulster Museum to learn more about dinosaurs and animals that lived during the Ice Age. We also shared the facts that we had learned in school with others. We were fascinated by the fossils we were able to hold and we made very good guesses about what the fossils could be. We saw pictures of woolly mammoth from the Ice Age and even an enormous tusk.
As part of out Ice Age activities we found that some of our dinosaur told were frozen in ice! We planned an experiment to find the best way to free the toys. Our results showed that the quickest way to release them was by running water over the ice.
We hope you enjoyed reading about our latest topic. You can see how much fun we have had from the photographs!
St Joseph's Primary School, 54 Greystone Road, Antrim BT41 1JZ | Phone: 028 9446 2076

WEBSITE BY: SCHOOLWEBDESIGN.NET | Login