Night out at the Belfast Giants
18th Mar 2016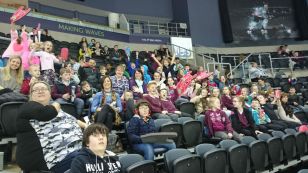 After the recent visit of the Belfast Giants to the school, we arranged to go and see them in action! Working with Mrs Meekin from Greystone PS and Gordy from the Giants, we set the date and got ready to cheer on the Giants and carry on our shared education work.
The boys and girls from both schools were fantastically well behaved throughout and not surprisingly my class enjoyed the opportunity to shout and scream without Mr McGinley asking for quiet!! The pupils loved watching the Giants skate to a well deserved 5-2 victory!
A big thank you to the staff, parents and grandparents who volunteered to accompany us on the trip and allow the kids the chance to have a brilliant night out!
St Joseph's Primary School, 54 Greystone Road, Antrim BT41 1JZ | Phone: 028 9446 2076

WEBSITE BY: SCHOOLWEBDESIGN.NET | Login