Pancake Tuesday
9th Feb 2016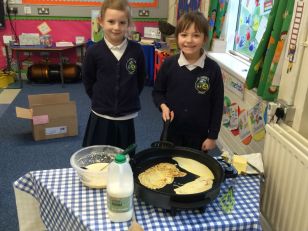 We made pancakes today and they were yummy!! First we found out all about Shrove Tuesday. In the old days there were many foods that people wouldn't eat during Lent, such as eggs and milk. Pancakes were made on Shrove Tuesday as it was a good way to use up eggs, fats and milk in the house. Making pancakes became a tradition.
We looked up a recipe on Google and followed it carefully. Emily weighed the flour. Romeo sieved it. Cassidy cracked the eggs. Matteo added a pinch of salt. Conor added the milk. We took turns at the mixing because it was hard work. Then we all got to fry our own pancake. Lucius even tried to flip his in the air but it landed on the floor. He made a new one!!
When the pancakes were ready we got to choose from lots of yummy toppings. What topping do you like on your pancake?
St Joseph's Primary School, 54 Greystone Road, Antrim BT41 1JZ | Phone: 028 9446 2076

WEBSITE BY: SCHOOLWEBDESIGN.NET | Login