Space Exploration in P4
23rd Jan 2017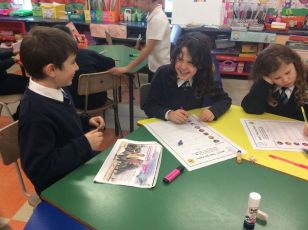 To Infinity and Beyond!
We are very excited about our new space topic. Our big focus is learning and exploring the planets and solar system. We have transformed our Open Area into a space exploration area: A space station, creative table for space art and a reading corner filled with lots of non-fiction texts for us to explore facts and engage in research activities!
We have already been doing plenty of researching about the planets using our information booklets. With our learning buddies and white hat thinking, we selected our favourite facts and recorded using our fact files. During our arts lesson, we explored the work of the famous artist Vincent Van Gogh. We chatted about his style of painting and really focussed on his piece 'Starry Night'. We loved it so much that we decided to re create our own starry masterpieces!
During the past two weeks, we have also been working super hard at home to create amazing learning logs about what we already know about space- please check out our gallery to have a look at our 'out of this world' creations!!
St Joseph's Primary School, 54 Greystone Road, Antrim BT41 1JZ | Phone: 028 9446 2076

WEBSITE BY: SCHOOLWEBDESIGN.NET | Login