Zoolab visit P3
2nd Jun 2016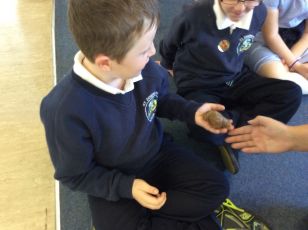 Primary 3 were very excited by some visitors to our classroom. Zoo lab came to visit bringing lots of different minibeasts to help us learn more about our 'Bug's Life' topic. Roisin has written a report to tell you all about it.
First we saw Sheila the giant land snail. She was very slimy. Ew! She is a mollusc.
Next we saw George the cockroach, he had an exoskeleton. He is an insect.
Then we saw Rosie the Chilean Rose Tarantula. She is an arachnid.
After that we saw Chuck the crab. He is a crustacean, they have 10-22 legs. He has an exoskeleton.
Then we saw Ziggi the corn snake. She is an invertebrate.
Finally we saw Oscar the rat. He was furry and he did a trick. He is a vertebrate.
By Roisin
As you can see we learned so much about the creatures,
St Joseph's Primary School, 54 Greystone Road, Antrim BT41 1JZ | Phone: 028 9446 2076


WEBSITE BY: SCHOOLWEBDESIGN.NET | Login