P1 Home Learning Week 8
15th May 2020
Good Morning Everyone,

Next Friday 29th May, we were due to have our annual Sports Day. We have decided to have a virtual sports day!
As Week 9 of Home Learning is only a 2 day week, we want you to start this week so you will have more time to send in your photos or videos.
You have 3 activities to complete:
a running race
an obstacle race - design your very own obstacle course
potato and spoon race
You can either take a very short video, or a photo/photos and send them to the teacher by Thursday 28th May.
The class teacher will share the video/photo on SeeSaw with the class. If you would not like your teacher to share your posts, please drop us a message.
Have fun!
Mrs McErlean, Mrs Clarkin and Mrs McNeice
St Joseph's Primary School, 54 Greystone Road, Antrim BT41 1JZ | Phone: 028 9446 2076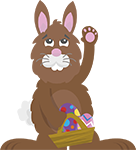 WEBSITE BY: SCHOOLWEBDESIGN.NET | Login